The quality policy of BIBUS SPAIN, S.L.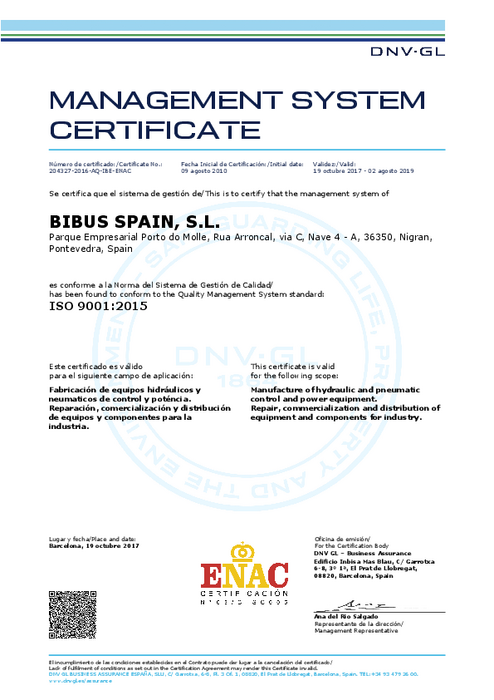 The primary purpose and committed intent of BIBUS Spain to represent the products and associated consulting, service quality by increasing customer satisfaction, to enhance existing market position and by winning new customers' confidence to expand the local market.
The introduction of ISO9001 quality management system, setting and implementing quality targets, ensure of the development company. The legislation on our operations, enhancing confidence in compliance with regulatory laws, the company seeks to reduce risk factors for.
The owner of BIBUS Spain and company management declares its committed intention to quality-oriented company control, and by continuously improving the products or services provided by the company want the quality objectives to achieve. The criterion for implementation of infrastructure and human resources is
ensured by the management.
The company guarantee for the introduction of the quality introduction management system by commitment with quality and the experience of all employees.
BIBUS Spain ensures the conditions of quality and professional development by organized educations, trainings, by which the company will improve in efficiency, thereby increasing worker satisfaction.
Constant monitoring of partners and our customers' feedback, through the ever increasing demands of the competition, we want to maintain and enhance satisfaction. The development of the supplier relationships both personal and qualitative aspects the company management hopes the fulfilling of the standards of the owners.
The company management provides all the support and performance rights for its employee working in quality management.
BIBUS SPAIN, S.L.
Rua do Arroncal, Vial C – Nave 4A
Parque Empresarial Porto do Molle
36350 NIGRAN (Pontevedra)
España
Tel: +34 986 24 72 86
Fax:+34 986 20 92 47
info@bibus.es